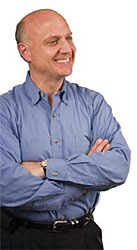 I have worked with over 1,000 individuals as a business and executive coach over the past 23 years. Based in Troy, Michigan, I earned the distinction of Master Certified Coach (MCC) from the International Coach Federation (ICF) in 1999.  I work with executives, business owners, and high-potential professionals to help them significantly increase their productivity, profitability, and life balance.
My workshops, seminars, speaking engagements, and customized coaching programs foster a comprehensive and holistic approach to individual and organizational development, assuring practical applications on both professional and personal levels.
My customized coaching programs range from small entrepreneurial ventures to a variety of projects with mid-sized and large organizations, including professional service firms, coaches, consultants, and professionals in transition looking to start and grow their own business.
I spend much of my time helping individuals and organizations master the leadership, management, communication, and coaching skills needed in today's competitive and rapidly changing world.  I speak frequently to groups in Southeastern Michigan on coaching, leadership, management, mastering relationships, sales effectiveness, and life-balance issues.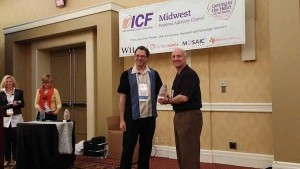 ICF 2015 Thomas Leonard Achievement Award Winner
The Thomas Leonard Achievement Award is given to a coach who exemplifies the visionary perspective of Thomas Leonard, a major contributor to both the profession and industry of coaching, and founder of the International Coach Federation.
The Quotable Coach Website and Book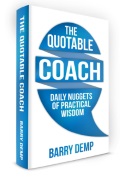 Through The Quotable Coach, I distribute a thought-provoking quote each weekday, along with a brief commentary and exercise. You can learn more about the project at The Quotable Coach, where you can also sign up to receive this daily dose of inspiration and motivation in your inbox for free.
In June 2014, I released my first book, The Quotable Coach: Daily Nuggets of Practical Wisdom. You can get the ebook version from Amazon.com (or Amazon.co.uk, or your local Amazon store), and you can get the paperback from my eStore.
Reasons to Choose Me as Your Coach
Why work with me?
I was Michigan's first Master Certified Coach (MCC), a distinction I earned in 1999.
I have over 33 years of sales and business development experience.
Over the past 23 years, I have worked with over 1,000 individuals and trained over 60 coaches.
My background includes sales and marketing with a Fortune 500 company.
I have a Bachelor's of Science degree in education.
My business and executive coaching services are complemented with life coaching, where requested.
I take pride in maintaining a high level of integrity, confidentiality, and mutual respect in all my coaching relationships.
I generously offer knowledge and experience in a diverse array of business settings.
I practice what I preach in my own professional and personal life.
I conduct the majority of my work face-to-face, and also conduct telephone coaching as needed.
Listen to recordings of Barry Demp speaking on The Coaching Show
To explore developing a customized coaching program for you or your organization, please contact me.
I have worked with a wide variety of industries including:
| | | | |
| --- | --- | --- | --- |
| Accounting Firms | Construction | Insurance | Personnel Services |
| Advertising | Consulting | Law Firms | Pharmaceuticals |
| Architectural Firms | Educational Institutions | Manufactured Housing | Photographers |
| Automotive Industry | Entertainment | Manufacturing | Public Relations |
| Banking | Executive Search | Marketing | Publishing |
| Benefits | Financial Services | Medical | Real Estate |
| Career Transition | Franchising | Mortgage Banking | Software Development |
| Coaching | Healthcare | New Media | Staffing |
| Commercial Real Estate | Information Technology | Non-Profit Organizations | Telecommunications |
| Training & Development | Web & Online Marketing | | |
..