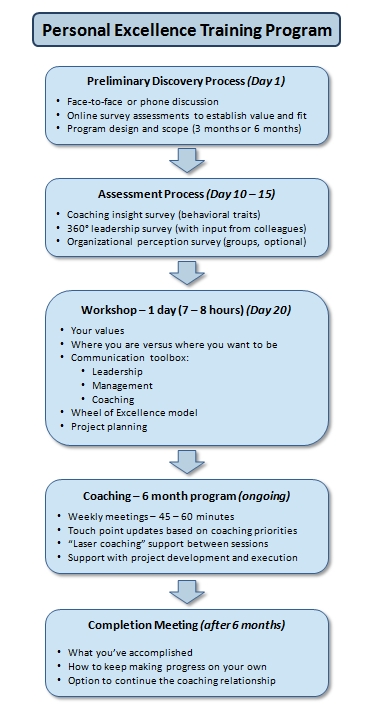 Our Flagship Program: Never question where you are or where you are going again. Personal Excellence Training, run over a  7-month period, will help you laser focus on your current landscape, your direction and goals, and each step you need to take along the way to being where you want to be.
Preliminary Discovery Process
Before we begin the program, we will go through a discovery process together to establish that there is a good fit between us, and to explore the value of working together.
This process will include online survey assessments. The three primary ones used are:
Coaching readiness scale
Six business coaching questions
Personal Excellence Coaching assessment
At the end of the discovery process, we'll design a program that suits you.
Assessment Process
This is the first stage of the program, where we establish your current situation. It takes place one to two weeks before the workshop.
During the assessment process, you will seek feedback from colleagues, as well as providing your own thoughts.
You will have two primary surveys to fill in. Each will take 10 – 20 minutes to complete.
The surveys are:
Coaching insight survey
360° leadership survey – with input from colleagues
Organizational survey – for group/team workshops (optional)
Workshop
The workshop takes place during a full workday – seven to eight hours.
The purpose of the workshop is to prepare you for the coaching process and to establish an understanding of the work that we'll be doing. It's an individual, personalized workshop that most people say is very different from anything they've ever done before.
During the workshop, we'll discuss your values. We'll establish the gap between your current reality and your vision of where you want to be. In the morning, we'll go through your surveys and in the afternoon I'll introduce you to a set of tools and models that will maximize the impact of the coaching.
Coaching
We'll have six months to plan and work together on bridging that gap between where you are and where you want to be, concentrating on project development and execution, as well as addressing front-burner issues that may currently make up most of your day.
Each week, we'll have a meeting – either face-to-face or on the phone. This will last 45 – 60 minutes.
Between meetings, you can use voicemail or email to update me on your efforts and progress towards specific goals that we've set together. These touch points allow us to build momentum, increase your awareness, and see positive movement every single week. They also help to keep our sessions focused and efficient, so that we don't have to spend time catching up each time.
If any questions arise between sessions, I provide "laser coaching" – very short coaching meetings, usually lasting 5 minutes or less, to maintain your momentum.
Completion Meeting
During our final meeting, we'll discuss where you were at the beginning of our coaching relationship, where you are now, what you've accomplished and what's next.
We will make sure that you have the tools and resources to carry on making progress alone – but you may, if you wish, choose to continue with the coaching relationship.
If you would like to discuss Personal Excellence Training for yourself or for your organization, please contact me today.