Speaking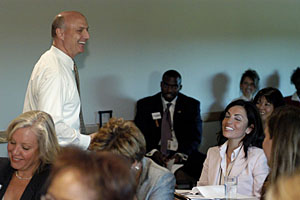 Presentations and speaking to groups can act as a catalyst for change. As a student of individual and organizational effectiveness, I have been asked to speak on a variety of subjects to address the needs of business professionals and groups. All presentations are tailored to the specific needs and interests of your group or industry.
Please review the list below to see if your group would have an interest in one or more of these topics.
Business skills for enhanced performance
Communication skills for the busy professional
Team-building strategies for success
Leadership skills for creating new futures
Using soft skills to produce hard results
Developing managers into coaches
Mastering professional and personal relationships
The do's and don'ts of networking
Creating the value proposition
Business development skills for the professional service provider
Strategic and tactical plans made easy
Becoming a masterful coach
Why typical training doesn't produce sustainable results
Mastering time management
Peak performance strategies of successful people
Life balance – it is possible!
Leadership, management, and coaching – what are the differences?
Improving your health and everything else in your life
If you are interested in having a customized presentation on one or more of these topics for your group, please contact me.